Keysight Technologies is the world's largest electronic design and test company. It is the original business Bill Hewlett and Dave Packard famously founded in 1938 in a Palo Alto garage. In 1999, when the Hewlett-Packard Company decided to focus on computers and printers, it spun off its measurement and life science businesses as Agilent Technologies. Keysight was then spun out from Agilent in 2014 and focuses on electronic test and measurement. Today, Keysight is focused on electronic test and measurement to help its customers accelerate innovation to connect and secure the world.
As Keysight became an independent public company, CEO Ron Nersesian set a bold vision to transform Keysight for growth and make it the world's leading test and measurement company. To execute that vision, the company launched a big shift to move from a hardware-centric products company to a software-centric solutions company, building on the strength of customer relationships and decades of expertise delivering best-in-class measurement technology. This shift involved fundamental changes to the company's operating practices and go-to-market strategy to heighten the focus on end markets and expand contributions to customers through more software solutions and services. At the same time, we also shifted our culture to enable the company's long-term success
To accelerate the pivot, the company reorganized from its decades-old product division structure to an industry structure that closely mirrored end-market customers to increase the focus on delivering to customers' needs. As part of this industry-focused structure, customers now have a single point of contact who can make commitments encompassing all Keysight's capabilities, resulting in better alignment to customer requirements and timelines (see Figure 2).
Building on our new organizational structure, we started making disciplined early investments in key market inflections or technology trends such as 5G. We executed strategic acquisitions to bring in leading brands that complemented our solutions portfolio. By successfully integrating teams and technologies, we expanded our contributions to customers and accelerated our transformation. In parallel, we built—and sustained—partnerships with key market-defining customers. These relationships provide us with market insights to guide our solutions-planning process. Finally, we focused on developing an end-to-end product and first-to-market solution portfolio that is relevant across the industry workflows and ecosystems we serve. This requires a higher level of commitment and contributions than being a "product only" company.
To support the company's new solutions focus, we also emphasized software and services to supplement our hardware offerings. This required building a strong software engineering team. To attract and retain this talent, we established an office in Atlanta near Georgia Tech University. This team has driven and contributed to our market-leading software-centric solutions, including PathWave, which is our software platform that accelerates innovation by standardizing data formats and user interfaces on the software across the entire lifecycle. PathWave is now the foundation for many Keysight solutions today and in the future. At the same time, we also strengthened our services with new offerings, like KeysightCare, which is a comprehensive customer experience that tracks equipment, utilization, calibration and repair.
In addition to investing in the business, we also made strategic acquisitions, which the business hadn't done for many years. Including mergers and acquisitions (M&A) as part of our strategy allowed us to fill in gaps and expand into adjacencies, which accelerated our progress and capabilities in our growth areas. Over the last five years, we built out this capability for the company and completed 11 acquisitions that have strengthened our offerings and increased revenue.
Keysight's diverse customer base includes leading industry innovators whose success depends on being first and best. Digital transformation is having a massive impact on our customers' realities. It is changing the innovation paradigm through the application of connectivity, computation and security, resulting in an evolution in the value. And in a world where value paradigms are changing, the need for software solutions is heightened, and the pace of innovation is accelerating, Keysight has an opportunity to increase our contributions to customers. The transformation from a hardware-centric to a solution-focused company was a major pivot that has significantly increased the enterprise value of the firm and positioned us with a greater competitive moat while giving employees more opportunities to make meaningful contributions.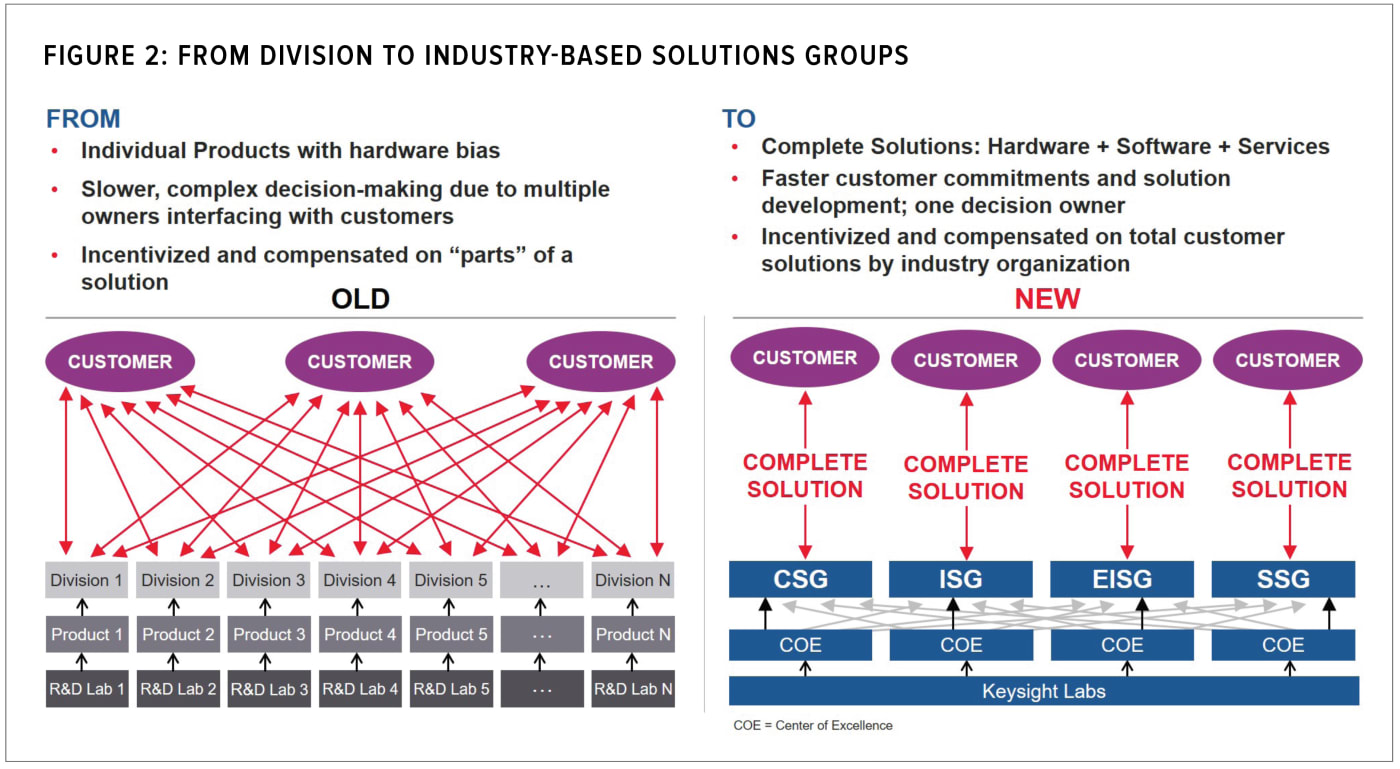 Building a Competitive Advantage Culture
But implementing a winning strategy is not just about placing a greater focus on customers or making different portfolio choices. Driving organizational alignment and mobilizing the entire organization around your company mission through ongoing communication, training and reinforcement is just as important to realize success.
In parallel with shifting the business strategy, we also put intentional focus on building a culture that we are proud of, enables our success, and sets us up for future growth. There are four main aspects of our unique culture.
Innovation and collaboration thrive in our culture.
Our diverse workforce magnifies idea generation.
The Keysight Leadership Model (KLM) is a blueprint for everything we do.
High employee engagement and commitment drives our strategy and customer success.
We built our culture on a winning formula that combines our strong, historical core values, new values that would be critical to our long-term success, and a compelling company purpose that attracts and retains the deepest technologists in our industry (see Figure 3).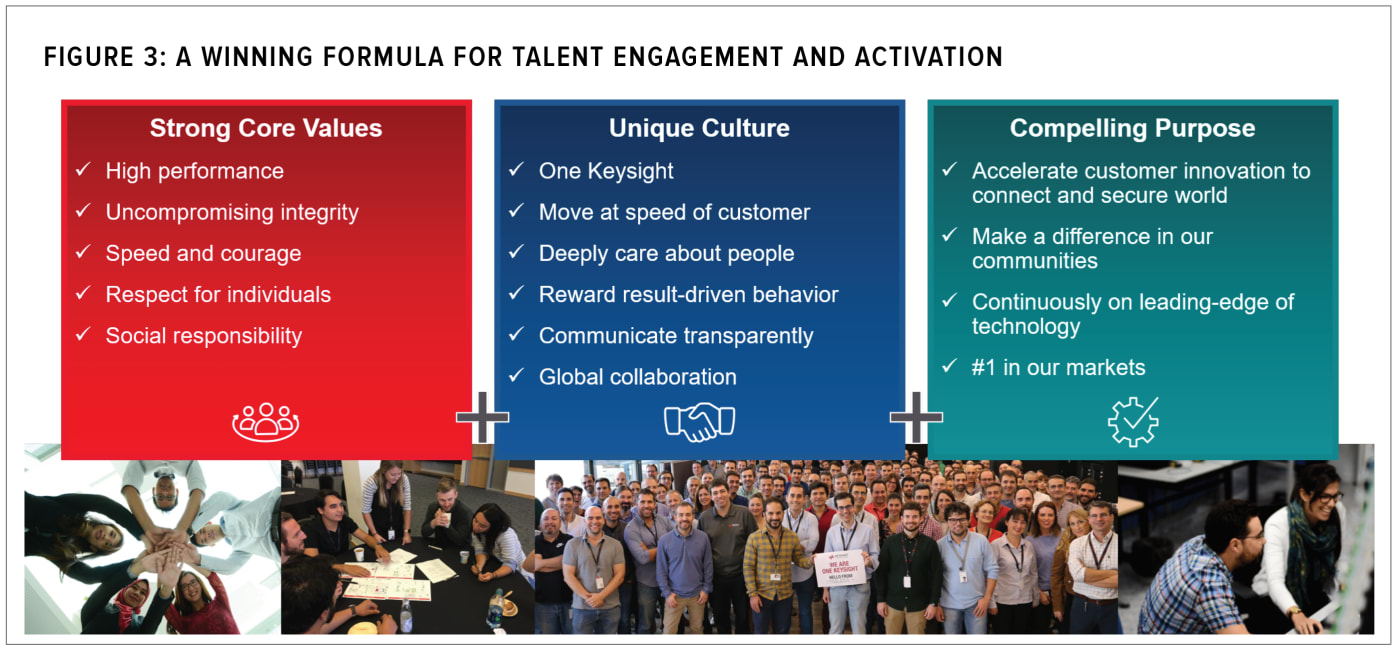 A critical success factor of our new culture is the One Keysight view held by employees. This enables decision-makers to put Keysight's customer success and interests first and we reinforce that with our performance rewards programs. We deeply care about our employees and have demonstrated that through several crisis situations, including wildfires which impacted our headquarters and COVID-19. We also provide career-long development and learning opportunities for all employees. These unique attributes of our culture combined with our involvement in bleeding-edge technologies where our engineers are steps ahead of commercial innovators make for a winning formula for a great culture and work environment.
Further, our culture powers a rich, stable environment where some of the world's deepest technologists can focus on delivering customer and company success. We consistently have industry-low attrition rates which provides stability, focus and results in critical technologies. To support the transformation to software and solutions, we have had to recruit and acquire new skills and talents and have dramatically and successfully increased our internships in these new areas and refreshed our recruiting strategy to successfully increase our software talent by 83 percent.
The Keysight Leadership Model
To drive the transformation and strengthen our new culture, we have significantly changed our leaders in order to have the right leaders in the right roles. One of the keys to our success is to have leaders that embrace and role model our values and culture and adapt their organizations accordingly. The KLM institutionalizes how we run the business at every level of the organization. It is the common language and vocabulary we use across our company that allows employees to understand company priorities, how they fit into the business model and how they contribute to success. Engagement in our company strategy is off the charts, and we are seeing that highly engaged employees outperform (see Figure 4).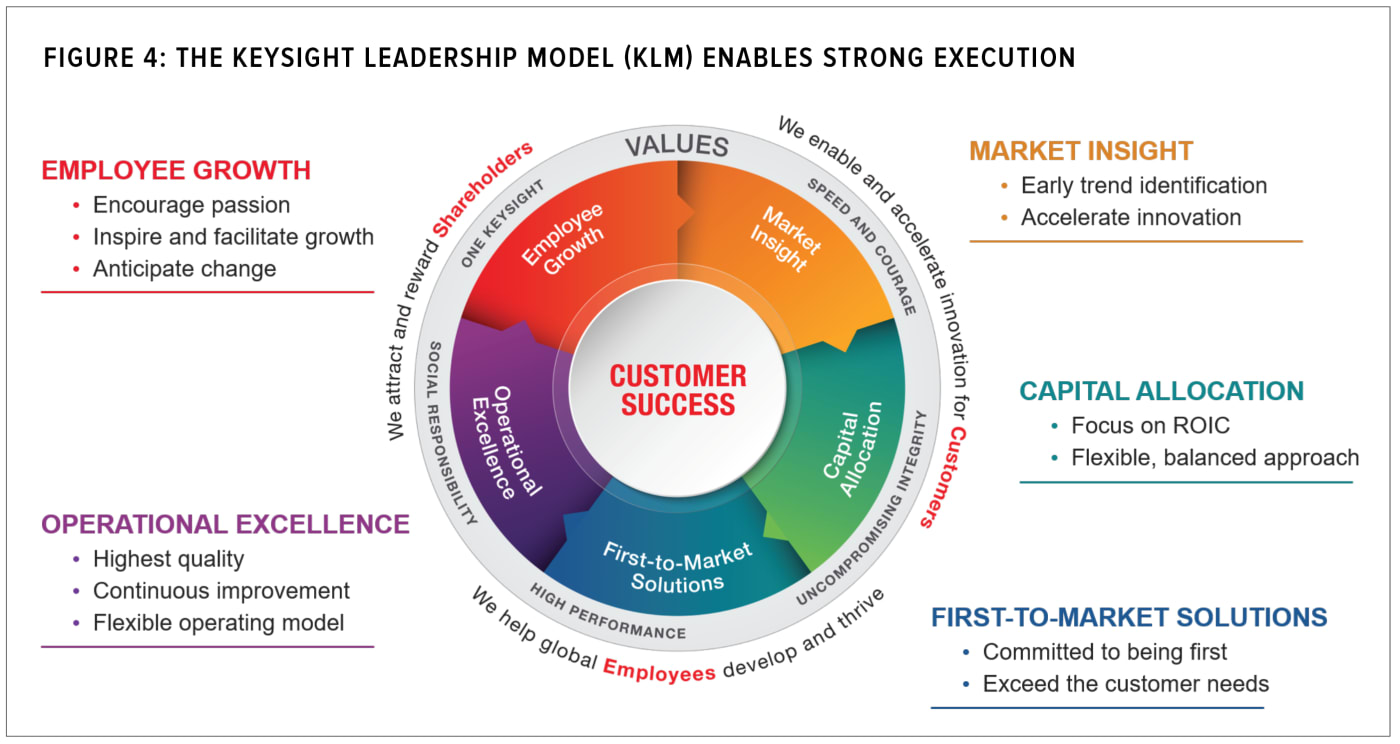 Continuous learning and improvement is another unique aspect of our culture. We have five generations of employees from the Greatest Generation to Boomers, Gen X, Gen Y and Millennials. This depth of experience combined with our agile global diversity and inclusive practices enable us to innovate and execute our vision. We support cross-generational mentoring, ongoing self-improvement and development, and flexible career paths to enrich employees and contributions. In addition, our culture also highly values social responsibility and that is showcased by our tremendous employee volunteerism; science, technology, engineering and mathematics (STEM) support; and environmental, social and corporate governance (ESG) efforts.
For these reasons, our culture is our competitive advantage that we continue to strengthen with our talent development, recruiting, Keysight Leadership Model and engagement.
We learned many lessons during this transformation. While we were defining the strategy, we were also outlining the behaviors, core values and leadership capabilities aligned to our new direction. Because of this, making sure we had the right leaders in place was critical. We had to make some very difficult decisions, but the scope of our transformation required quick and decisive action, and manager buy-in and influence were fundamental to driving strategy and culture change.
Change management was also challenging, but we managed it proactively, reinforcing changes through the organization structure, rewards, business goals and communications at all levels. The multifaceted nature of the Chief Administrative Officer team, which includes workplace strategies, sourcing and internal operations as well as HR, made it easier for us to reinforce the culture and employee experience from different perspectives.
Finally, as part of the business transformation, our HR team went through its own transformation. We upgraded our HR systems, expanded roles, promoted team flexibility and creatively changed our workflows and processes so members of the team could wear multiple hats to support the business changes.
Institutionalizing and Reinforcing the New Strategy
At Keysight, one of the first steps we took was developing the KLM to align the entire company around our collective imperative: customer success. Customers are at the center of everything we do, and our success is directly linked to their success. This is a highly motivating message to our 13,000+ global employees. The KLM philosophy permeates every aspect of our operations—driving innovation, speed and excellence in execution. We reinforce this message through continuous communication, ongoing learning opportunities and a weekly newsletter that highlights success stories from within the company.
To build further alignment, scale and organizational commitment to our strategy and the KLM, we launched an online learning sprint experience through a third-party platform called CorpU. We formed cohorts of ~1,000 employees and for one week, they spent a few hours each day going through the digital course. The content was comprised of videos of all Keysight's senior leaders digging into the why, what and how of the new strategy and cultural shift. We combined these with presentations and expert articles on business strategy and provided online discussion forums to allow people to interact and ask questions of each other and senior management.
Our engagement was off the charts—a very encouraging measure that validated the level of employee engagement and learning that took place to align everyone to our new roadmap. And these metrics were validated by employee's feedback about the strategy sprint—getting the word out is key, so that each employee can then take ownership for contributing to the mission of the whole. Another reason is for better alignment that lets the employees hear directly from the leaders and strengthen their understanding and internalization of KLM (see Figure 5).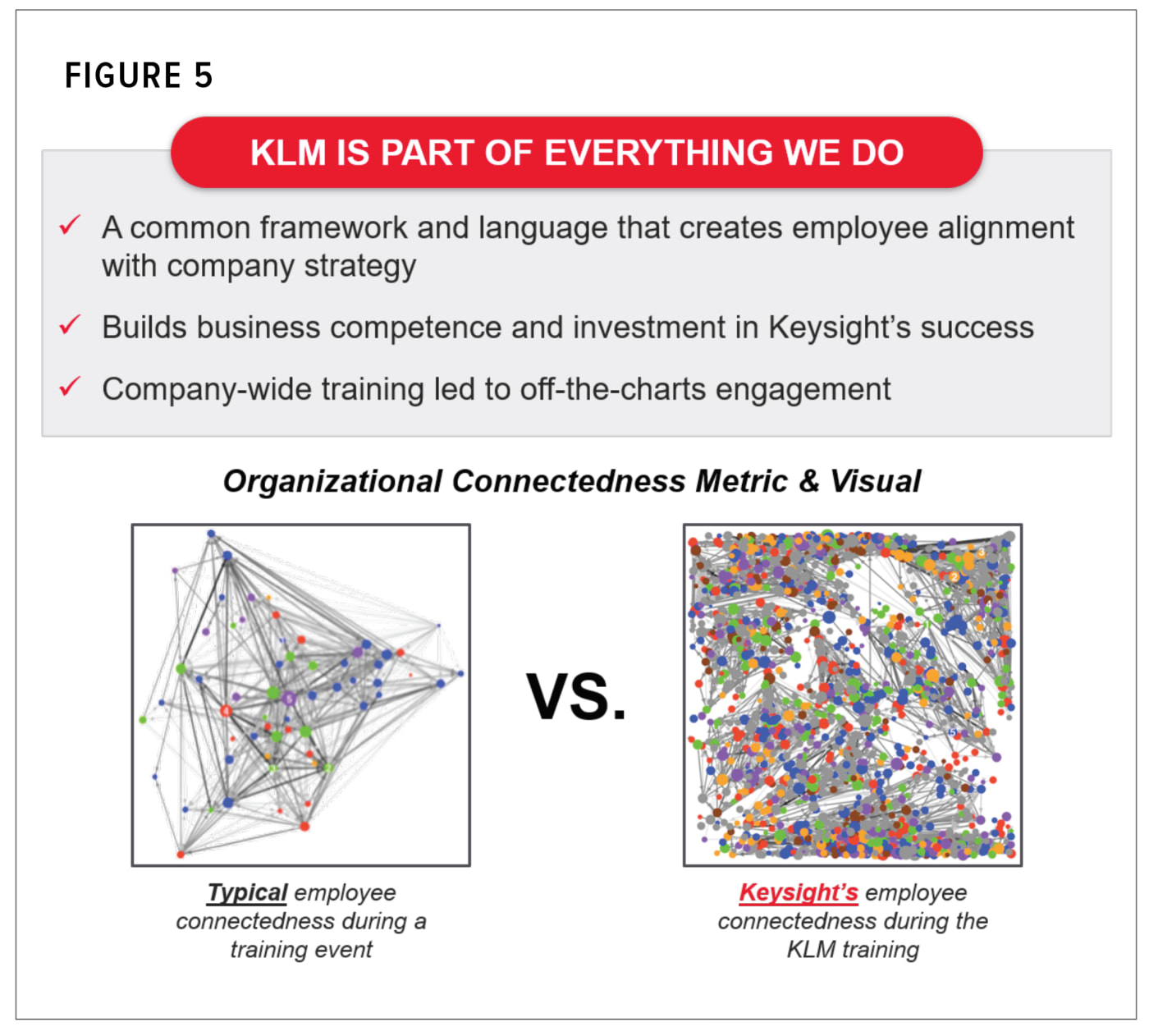 Producing the content for the sprint created clarity around the change aspects we were driving and illustrated the importance of strong cross-functional alignment, which we call the One Keysight mindset. Ultimately, the creation and rollout helped accelerate the organization's understanding and adoption of the strategy, and the collective attitudes and behaviors that were necessary for us to achieve success (see Figure 6).

The senior leadership team was engaged early in the process and helped refine and validate the organizational shifts, cascading them throughout their teams. From past change management experiences, we recognized that culture change requires daily conversations and constant clarity from the senior leaders highlighting the new cultural norms and why they are important.
Each of the senior leaders developed and leveraged clear team charters, high-level process flows, key roles, team interdependencies and deliverables across their teams to demonstrate how the new structures were positioned to enable the organization to succeed. It was a little rocky at first as we were inventing new ways of working together and breaking down a product-centric organizational structure that had been in place for over 75 years. But the teams were ready for change and we had a market imperative.
To further enable our leaders' success in leading this organizational change, we created a communication program that included the strategy activation sprint videos, as well as tools which covered the overall change process, their role as leaders, what to expect from their teams, and how to manage change within their teams. Then, we provided them with resources to act and to mobilize teams to execute the strategy effectively.
Fostering Disruptive Innovation and Shifting Culture

We know our culture shifts and new norms have landed through the storytelling we hear across the company. It is encouraging and rewarding to hear our engineers, marketing team and sales force stand up in a packed coffee talks and share the excitement of winning a new customer partnership. In our new virtual environment, this storytelling is just as active through our collaboration platforms.
To truly accelerate innovation, we recognized the need to act at the speed of our customers to enable their time-to-market needs. This important behavioral shift to be more agile and fast-paced was critical in an increasingly solution-centric world.
A great example of this was when we pulled together an agile, multifunctional project team to develop a new solution (see Figure 7). The team, aptly named Bugatti after the French race car legend, was able to reduce the productization time by 50 percent from 3 years to just 18 months by innovating to meet market timelines. The team took the risk and declared an intent to "Be First" in the market with a new technology. With a One Keysight mindset, collaborative approach, and strong partnerships across the company, the project team went from concept to an integrated prototype in four months and deployed to the key market makers in record time. This is just one example. There are many others of teams coming up with creative ideas to solve problems and embracing the new customer-focused growth mindset.
Recognizing this growth mindset as an important best practice to be celebrated, Nersesian developed the Wavemaker Award. Each year, one team is recognized for their disruptive value creation, reinforcement of Keysight values and contributing to a culture of bold leadership.
It was through the alignment of the leadership team and the multi-functional partnership with finance, HR, order fulfillment and sales organization that we were able to drive a broad cultural shift. Our CEO said, "It is impossible to produce superior performance unless you do something different." In other words, if we do nothing to change, we will not generate growth.
We believe that because we approached this transformation as a mindset shift and deliberate choice to adapt our culture, we set a new bar for ourselves. Everything else pivoted around this change, including developing new ways of collaboration, nurturing multi-functional partnerships, establishing new ways to articulate value and increasing our market differentiation.
All of this resulted in Keysight multiplying its market cap since launch ~4X through a highly motivated workforce that is strongly aligned to the company strategy and goals. The company and employees have faced significant business disruptions and challenges in the past few years—from wildfires to COVID-19. And through them all, our north star has been our commitment to customer success. Our employees are motivated by the meaningful and purposeful work they are doing on behalf of customers to accelerate innovation to connect and secure the world.